ICE iB1500 UHS ultra highspeed machine
ICE iB1500 Ultra Highspeedmachine
Herstelt de glans van uw vloeren!
De ICE iB1500 is een zogenaamde ultra highspeedmachine voor het herstellen van alle, met was behandelde vloeren naar zijn oorspronkelijke glans. Deze machine is voorzien van een ingenieus veerdruksysteem voor een continue balans van pasdruk op de vloer. De hoogwaardige inductiemotor garandeert een zeer lange levensduur en minder onderhoud dan de DC motoren die gebruikt worden in andere merken highspeed machines. De ICE iB1500 bouwt snel warmte op en herstelt snel, geeft een optimaal glans- en reinigingsresultaat ! De ICE iB1500 kan gebruikt worden op harde (en met was behandelde) vloeren zoals linoleum, natuursteen, marmoleum, PVC, rubber.
Neerklapbare steel voor transport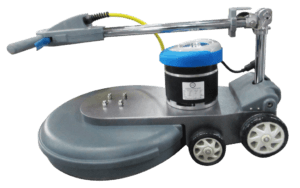 Superhandig! De ICE iB1500 heeft een neerklapbare steel voor bijvoorbeeld transport. Maar ook het opslaan van deze ultra highspeedmachine in een kleine werkkast is daardoor mogelijk.
Flexibele padhouder
De ICE iB1500 heeft tevens een flexibele padhouder die zich aanpast op toerental en oneffenheden op de vloer. De iB1500 is daarom stabiel en reduceert daarom de kans op krassen of 'happen'  in de vloer.
Slim veerdruksysteem op de ICE iB1500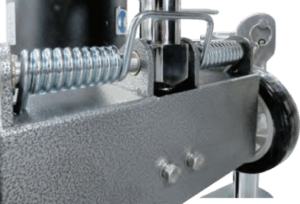 Met het ingenieuze veerdruksysteem wordt een continue pad-druk gerealiseerd. Dat is belangrijk om geen glansverschillen te krijgen en om een maximale warmteopbouw te creëren op de vloer. Hiermee herstelt u de toplaag van de vloer weer snel en gelijkmatig.
Nog een hoger toerental?
Voor die specifieke toepassingen waar u nog een hoger TPM kunt gebruiken zoals bijvoorbeeld bij PU gecoate vloeren of met thermoplastische wassen met een hoog PU-gehalte kunnen wij u de ICE iB2000 adviseren. Deze heeft tevens standaard stofafzuiging.
Kenmerken:
Flexibele padhouder
Zeer stil (62 dBA)
Neerklapbare steel
Inductiemotor 1,5 PK
15 mtr snoer (geel)
Veerdruksysteem voor pasdruk
19″ padhouder
Standaard accessoires:
inclusief vaste padhouder
Over ICE Benelux
ICE Benelux is gevestigd in Nederland van waaruit de distributie plaatsvind voor Nederland, België en Luxemburg. Wij werken met geselecteerde partners in deze landen.
ICE Benelux BV
Bennebroekerweg 269
1435 CJ Rijsenhout
The Netherlands
Tel: +31(0)297-303010
info@icebenelux.com
ICE schoonmaakmachines hebben standaard 3 JAAR GARANTIE op alle onderdelen en arbeid, met uitzondering van "slijtbare delen" zoals borstels, zuigrubbers, slangen, batterijen, aandrijfriemen en schakelaars.