ICE i20BTL schrobzuigmachine i-Synergy
ICE i20 BTL schrobzuigmachine i-Synergy
Full-service operational lease voor een vaste prijs per maand!
De ICE i20 BTL i-Synergy schrobzuigmachine is één van de slimme ICE schoonmaakmachines met SMART technologie, waardoor professioneel schoonmaken nog efficiënter wordt. De ICE i20 BTL schrobzuigmachine beschikt over het 'i-Synergy' systeem dat relevante informatie uit de schoonmaakmachine leest en per e-mail naar de eindgebruiker stuurt én real-time te volgen is via handig App of het webportal. Denk aan informatie zoals de werkduur, welke gebruiker, laadtijd, hoeveel m2 er is gereinigd en functioneren alle belangrijke componenten goed. Op deze manier heeft de eindgebruiker altijd up-to-date kennis over het functioneren van de ICE schrobzuigmachine op de werkvloer. Deze machine heeft een aandrijfmotor voor tractie vóór- en achterwaarts!
Professioneel reinigen met ICE i20BTL i-Synergy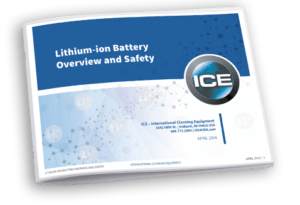 Dit model schrobzuigmachine van ICE heeft een schoonwatertank van 60 liter inhoud en is speciaal ontworpen voor gebruik in de professionele schoonmaakbranche. De druk op de borstel is maximaal 45 kg waardoor een optimale reinigingsprestatie kan worden gegarandeerd. Eveneens is het handig dat de lithium-ion batterij vanuit de schoonmaakmachine zelf is op te laten met een 'on-board' batterijoplader. In totaal is met de ICE i20BTL i-Synergy  2.200 m2 vloeroppervlak per uur schoon te maken. Snel en efficiënt vloeren schrobben en zuigen kan met machines van ICE.
De belangrijkste eigenschappen van i20BTL i-Synergy:
Standaard Lithium-ion batterij met 3 uur werktijd.
Gebruiksvriendelijke bediening en eenvoudig besturingspaneel.
De beste machine voor supermarkt, winkels, bouwmarkten!
Full-service operationeel lease inclusief onderhoud, storingsbezoek en onderdelen.
Aandrijving voor- en achteruit.
Maximaal 45 kg borsteldruk en ruime watertank van 60 liter.
Eenvoudig verwisselen van zuigrubbers.
Machine is te traceren op via GPS en/of Wifi.
Een werkcapaciteit van 2.200 m2/uur.
Deze ICE i20BTL i-Synergy wordt alleen geleverd op basis van operational lease (prijzen zijn op aanvraag). De ICE i-Synergy schoonmaakmachines kunnen tijdens het huurcontract ook worden omgeruild voor andere ICE machines of als extra machine worden ingezet. Ideaal als u tijdelijk extra capaciteit nodig heeft.
Meer informatie?
Wilt u meer informatie, een demonstratie of wilt u deze machine bestellen? Vraag hiernaast aan.
Kenmerken:
schoonwatertank : 60 ltr
opnametank : 65 ltr
capaciteit : 2.200 m2/uur
schrobbreedte : 50 cm
zuigmondbreedte : 76 cm
borsteldruk : 30 – 45 kg
toerental borstels : 200 TPM
geluidsdrukniveau : 68 dB(A)
gewicht : 113 kg
afmetingen: 135x78x109cm
werkduur: 3,5 uur (Li-Ion)
Standaard accessoires:
inclusief borstel, padhouder, Li-Ion batterij en ingebouwde lader 24V
Over ICE Benelux
ICE Benelux is gevestigd in Nederland van waaruit de distributie plaatsvind voor Nederland, België en Luxemburg. Wij werken met geselecteerde partners in deze landen.
ICE Benelux BV
Bennebroekerweg 269
1435 CJ Rijsenhout
The Netherlands
Tel: +31(0)297-303010
info@icebenelux.com
ICE schoonmaakmachines hebben standaard 3 JAAR GARANTIE op alle onderdelen en arbeid, met uitzondering van "slijtbare delen" zoals borstels, zuigrubbers, slangen, batterijen, aandrijfriemen en schakelaars.