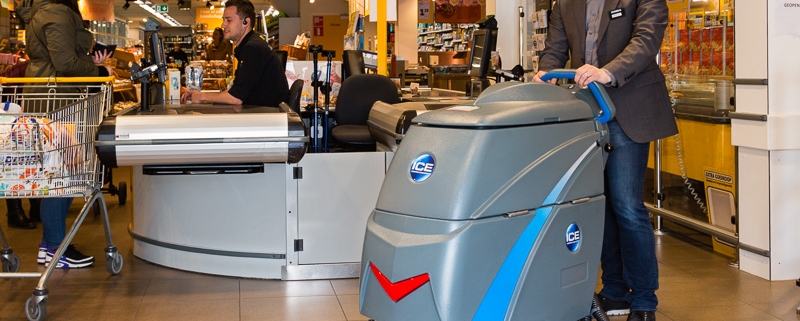 Winkel in Gilze gaat aan de slag met ICE schrobzuigmachine

'ICE i24BtL blijkt een goede keuze'
Danny Hapers van de gelijknamige Jumbo Supermarkt in Gilze neemt een ICE schrobzuigmachine in gebruik. "Met de ICE i24 halen we een stevige en no-nonsens schoonmaakmachine in huis, het is een eenvoudige en sterke machine en in een goede prijs-kwaliteit verhouding" aldus Danny Hapers.
3 jaar garantie biedt zekerheid
"Dat ICE standaard 3 jaar garantie op zijn geleverde machines garandeert zegt wel iets, dat schept vertrouwen. Ik koop een schrobzuigmachine voor jaren en verwacht continuïteit en kwaliteit. Mijn vloer moet schoon, dat is een eerste vereiste. Het is een eerste indruk die de klant krijgt als hij of zij binnenkomt, en dan heb ik het nog niet over veiligheid, iedereen weet dat een vieze vloer ook glad kan zijn, het laatste wat je wilt, is glijpartijen!".

Service en onderhoud
"De ICE i24Bt is een machine die specifiek voor retail is ontwikkeld, dat zie je terug in de constructie en in de bedieningselementen. Minimaal knoppen en handles vereenvoudigt en verkleint de kans op foutief gebruik, de bediener heeft snel door hoe deze machine werkt. Bovendien is het een degelijke machine. De delen die over de grond bewegen zoals de schrobkop en de zuigmond zijn van stevig aluminium, die zie ik niet zo snel stuk gaan. Het dagelijks onderhoud is simpel en doen wij zelf; dat zijn de aandachtspuntjes. Als we iets willen bestellen dan gebruiken we de handige smart QR-code op de machine; scannen, aanvinken en doorsturen. Een serviceverzoek kan ik op dezelfde wijze doorgeven".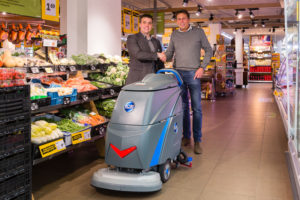 Op de foto Danny Hapers (links) van Jumbo Hapers Gilze en Rob Stokkel van ICE Benelux BV (rechts) tijdens de aflevering van de ICE schrobzuigmachine. 
Zelf een ICE schrobmachine testen?
Heeft u een supermarkt of winkel en wilt u ook eens vrijblijvend een ICE schrobzuigmachine testen? Neem dan contact met ons op via 0297-303010 of via het contactformulier op onze website. Wij maken dan een afspraak met u.
https://www.icebenelux.com/nl/wp-content/uploads/sites/2/2017/06/17179528-ICE-2.jpg
533
800
Rob Stokkel
https://www.icebenelux.com/nl/wp-content/uploads/sites/2/2019/04/logo-ice-benelux.png
Rob Stokkel
2017-06-06 09:01:14
2019-03-26 14:04:25
Jumbo Hapers kiest voor ICE i24 schrobzuigmachine