'MCS  in zee met ICE i-Synergy..'
Mams Cleaning Service uit Amsterdam is trots op zijn objecten; één van de meest bijzondere is wel de Passengerterminal van Amsterdam waar MCS dagelijks aan de slag is teneinde de reizigers een schone beleving te bezorgen bij aankomst of vertrek. De Passengerterminal stelt hoge eisen aan hygiëne en veilige vloeren.
Mams Cleaning Service maakte daarom de keuze om met ICE in zee te gaan.
 Schone én veilige vloeren met de ICE RS32L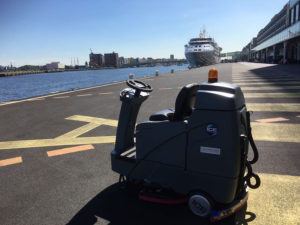 Voor het reinigen van de vloeren heeft Mams Cleaning Service  gekozen voor de ICE Rs32 L schrobzuigmachine met Smart Technology (i-Synergy) i.c.m. het full-service rental systeem. Ook hier speelt zekerheid, géén extra kosten of onverwachte facturen en een snelle responsetijd bij storing een grote rol.
De ICE Rs32 L heeft voldoende capaciteit voor deze taak en daarnaast mag de Lithium-ion accu tussendoor ook gewoon opgeladen worden. Op extra drukke dagen kan de RS32 L rustig nog een extra ronde doen!
Tevreden over de werkzaamheden van MCS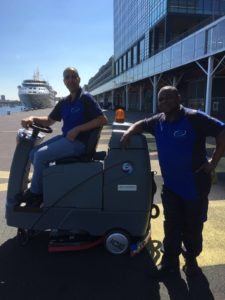 Frank Schoenmaker (Duty Manager & Port Facility Security Officer – Passenger Terminal Amsterdam) over Mams Cleaning Service: "In ons bijzondere gebouw aan het IJ worden jaarlijks vele zeecruiseschepen verwelkomd die de hoofdstad bezoeken. Het team van Passenger Terminal Amsterdam coördineert de hartelijke ontvangst van zo'n 300.000 passagiers en een efficiënte afhandeling van de schepen. Daarnaast vinden er in Passenger Terminal Amsterdam vele evenementen plaats. Van diners en recepties tot grootschalige congressen, beurzen en personeelsfeesten. Van klein tot groot, maar altijd spraakmakend!
Over Mams Cleaning Service:
Op de achtergrond zorgt Mam's Cleaning & Services ervoor dat het pand er tip top uit (blijft) ziet/zien. Vaak lopen wij als opdrachtgever tegen het probleem aan dat het gehele pand in een zeer kort tijdbestek schoongemaakt moet worden, gelukkig kunnen wij op de flexibiliteit en betrouwbaarheid van Mam's Cleaning & Services vertrouwen. Of het nou overdag of midden in de nacht is, zij zorgen ervoor dat alles op tijd weer schoon opgeleverd wordt. Hierdoor maken wij reeds jaren tevreden gebruik van de diensten van Mam's Cleaning & Services."
Lees hier méér over MCS: klik hier
https://www.icebenelux.com/nl/wp-content/uploads/sites/2/2016/07/MCS2-1.jpg
675
900
robstok
https://www.icebenelux.com/nl/wp-content/uploads/sites/2/2019/04/logo-ice-benelux.png
robstok
2016-07-18 13:09:13
2019-03-26 14:11:06
ICE op de Cruiseterminal in Amsterdam