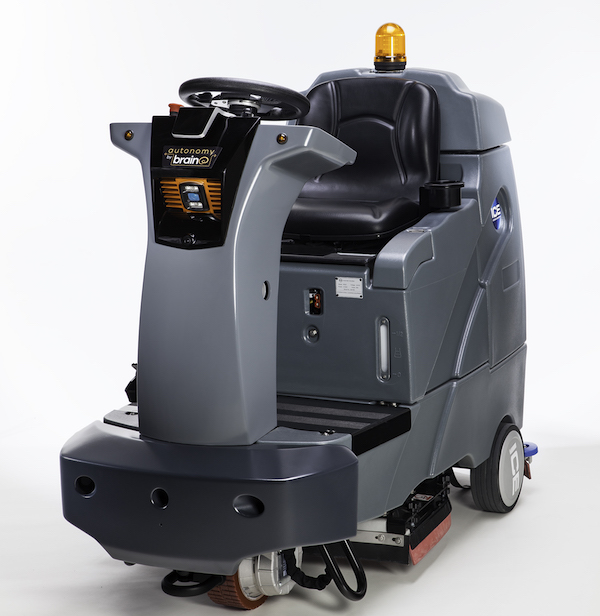 Maak kennis met Emma
Mogen wij u voorstellen aan Emma, de eerste ICE schrobzuigmachine met 'Brain'. Deze intelligente dame is gebaseerd op een ICE RS26 opzit-schrobzuigmachine en is voorzien van een volledig autonome navigatiemodule. Deze machine heeft een makkelijke 'set-up' en training en kan zonder programmeren ingezet worden. Deze robot is zéér efficient, snijdt geen hoekjes af en kan niet tegen stellingen rijden.
Emma is nog niet in Nederland. Op dit moment word zij door verschillende grote retail-bedrijven in Amerika, Azië en Europa getest. Emma doet het goed. Een mooie aanvulling op de lijn i-Synergy: slimme schoonmaakmachines van ICE.
Robotics van Braincorp.
Emma is een samenwerkingsproject van International Cleaning Equipment (ICE) en The Brain Corporation in San Diego (USA).  Emma heeft een zeer ingenieus navigatiesysteem maar daarnaast ook de capaciteit om zelf aan te passen aan de omstandigheden, slimmer te worden dus. Dat maakt Emma bijzonder. De technologie van Brain zal ook toegepast gaan worden op een aantal andere schoonmaakmachines van ICE. Dat betekent dat er geen consessies worden gedaan aan reinigingskracht van de machines van ICE; ze worden alleen slimmer gemaakt.
Geen investering.
U koopt Emma niet, u krijgt haar tegen een vaste maandprijs. Service en support inbegrepen. Net zoals de rapportage over het gebruik, het zogenaamde managementsysteem. Er zijn geen additionele kosten meer. Dat geeft rust en zekerheid in uw operatie en budget. Laat Emma het werk doen. Daarmee houdt u uw handen vrij voor andere werkzaamheden.
Manueel én robot!
Uniek is de keuze tussen handmatige bediening en volledig geautomatiseerde 'Robotstand'. Emma laat u de keuze; deze dame kan zich aanpassen van een reinigingsgang zonder bediener naar hándmatige bediening. Handig bij een calamiteit !
ISSA Innovation of the Year Award 2016.
ICE won met Braincorp de ISSA Innovation Award 2016 en the Innovation of the Year Award 2016 tijdens de ISSA Interclean 2016 in Chicago . Zie hier het Twitterbericht
Nieuwsgierig?
Voor Nederland moeten we nog even geduld hebben, maar Emma komt. Uiteraard besteden wij dan uitgebreid aandacht aan haar, dat verdient ze. Binnenkort dus méér nieuws over Emma. Tot die tijd bewonderen we haar nog maar even via deze video: Maak kennis met Emma, de eerste ICE Robot! 
https://www.icebenelux.com/nl/wp-content/uploads/sites/2/2016/08/Brain-Corp.s-self-driving-floor-scrubber-Brain-Corp.-image-used-with-permission.jpg
616
600
robstok
https://www.icebenelux.com/nl/wp-content/uploads/sites/2/2019/04/logo-ice-benelux.png
robstok
2016-08-23 07:46:55
2019-10-14 15:28:52
Hier is Emma, de eerste ICE robot schrobzuigmachine