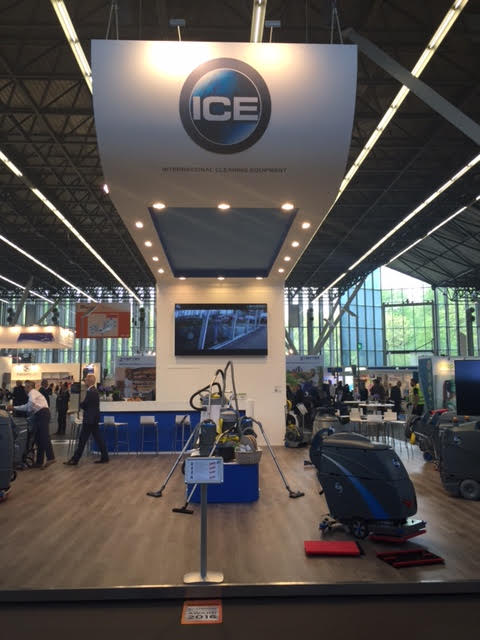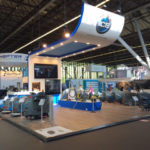 ICE Benelux was afgelopen dagen aanwezig op de ISSA Interclean 2016. Op de stand van ICE werd vooral duidelijk dat de technologie die gebruikt is met 'Internet of Things'  óók bepalend is voor de schoonmaakindustrie.
De vakbeurs was groter dan ooit, meer dan 50.000 m2 aan producenten en vertegenwoordigers in de professionele schoonmaakbranche. Er werden veel innovaties getoond.
Het team van ICE heeft de handen vol aan de belangstellenden voor het het nieuwste Full-serviceconcept gebaseerd op "Data-gedreven" technologie.
Beursthema:   ICE i-Synergy; Data Driven Cleaning
Met het i-Synergy systeem voor schrobzuigmachines en veegzuigmachines is realtime connectie via web-app mogelijk geworden.  Belangrijke gebruiksinformatie is inzichtelijk zoals:  gebruiksduur, oplaadtijden, wie is er met de machine aan het werk? Werken alle elektrische componenten goed? Waar is de machine (locatie GPS)? Hoeveel m2 is er gereinigd?
Europa
Er was veel interesse vanuit héél Europa waarbij opviel dat met name internationaal gevestigde schoonmaakbedrijven de kracht van dit unieke concept herkennen. De vaste prijs per maand zonder verborgen extra kosten of risico's maar ook de rapportage zijn daarbij natuurlijk ongetwijfeld de voornaamste redenen.
i-Synergy zelf ervaren?
Uiteraard kan het zijn dat we u gemist hebben tijdens deze vakbeurs. In dat geval komen wij u graag persoonlijk presenteren wat de kracht is van deze intelligente schoonmaakmachines. Maar u kunt i-Synergy ook zélf beleven in ons Experience-centre in Rijsenhout, pal aan de A4. Lees hier meer over het i-Synergy (huur) concept of neem contact met ons op: 0297-303010.
https://www.icebenelux.com/nl/wp-content/uploads/sites/2/2015/04/intc.jpg
640
480
hoofdadmin
https://www.icebenelux.com/nl/wp-content/uploads/sites/2/2019/04/logo-ice-benelux.png
hoofdadmin
2015-04-18 20:28:27
2019-10-17 23:53:08
Terugblik: ICE Benelux op de Interclean 2016!